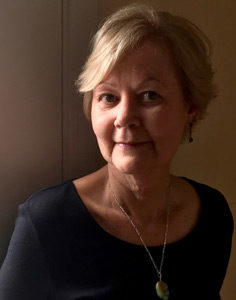 I'm a mystery author with a family mystery I was never able to solve. The mystery revolved around my maternal grandfather, Azemar Frederic. I'd never seen a photograph of him, didn't know when he was born or died. All I knew about Azemar was that he lived in New Orleans, Louisiana, and was my mother's father.
When Genealogy Roadshow announced that New Orleans was one of their Season Two cities, I was thrilled. If the show chose my story, I'd finally know the truth of my racial heritage. 
The show did choose my story. But I was not prepared for what the Roadshow discovered nor how it would change my life. Is anyone ever prepared to have her sense of identity shattered?
What the Roadshow discovered about the New Orleans Frederic family was a major life-changing event coloring everything I thought I knew about who I was and where I came from.
Gail Lukasik
Photo credit: Jason Winkeler / PBS Genealogy Roadshow

Gail Lukasik, Sarah Jones, Tim Dasenbrock/PBS Genealogy Roadshow, Los Angeles, California.
After the show aired, I received an outpouring of good wishes and shared stories. Many people asked me if I was going to write a book about my quintessential American story.
White Like Her: My Family's Story of Race and Racial Passing is that book. Inspired by the Roadshow, the book is the culmination of a journey that explores one family's racial secrets, spanning four centuries of American history.
Genealogy Roadshow was so enthusiastic about my discoveries; they invited me to come to Los Angeles to share my family story. I had the honor of being interviewed by Kenyatta D. Berry who chose my family story as her favorite of Season Two.